International Holydays With
Alternative Holidays at La Perezosa
(The Lazy One) The Picos Mountains House of Rest
Alternative Holidays with yoga, relaxation, massages, mountain walking, excursions, workshops, Mother Nature in her purest form, healthy food, an outdoor swimming pool and plenty of friendship.
Immersed in nature in the heart of the spanish Picos Mountains; enjoy healthy and relaxing alternative holidays at La Perezosa House of Rest. 
Health – With a variety of workshops to choose from, yoga classes every day, relaxation, massages, animated talks, group activities that focus on personal growth, stress management and self motivation, advice on nutrition and lots of healthy food made healthily.
Nature – With excursions into the wild, guided hiking routes in the mountains, an outdoor swimming pool, hammocks in which you can rest and appreciate the spectacular garden, with homegrown herbs and medicinal plants, and total immersion in the surrounding landscape and environment where you can see an impressive variety of local flora and fauna.
Fun & Enjoyment – Magical evenings with group games, dances of the world, music, board games, live concerts, trips to explore the beautiful village of Potes and other scenic locations in the valley of Liebana, dinner and drinks at the widely acclaimed, Soldreria Restaurant and Bar, and not to forget, lots of laughter, joy and unexpected surprises. 
The House of Rest also offers you its very own natural therapy and physiotherapy clinic, trips to the nearby spa, online courses in health and nutrition and a delicious, homemade ovo-lacto-vegetarian menu. The House of Rest cultivates the experience it has gained over the years to invite you into a warm and welcoming atmosphere that will make you feel relaxed and comfortable. Whether you come alone or as part of a group, La Perezosa provides the ideal setting for you to meet and make new friends. 

Practice yoga in a fun and healthy way with our Yoga for Health and find out about our natural methods for achieving health, happiness and prosperity. 

La Perezosa House of Rest promotes health everyday, leading courses across Spain in yoga and nutrition, not to mention our very own online courses available to download from our Health Institute. Please visit 'The Lazy Corner' to take a wee peek at the services we offer. 

If you want to take care of yourself and have fun in the middle of nature, choose an alternative holiday in our Rest Home, your meeting place since 2005.
Gallery of photos
click on the images and they will go to our flickr of the house of rest.
To see more photos access to our page
"I have had a wonderful and unforgettable week, I came by chance to La Perezosa to relax and unwind, and you have given me a lot more thanks to everyone from my heart and I hope it is just the beginning of a good friendship."
93/5000 "A very pleasant week with hosts that convey a lot of love and tranquility ..."
"A great group and some magical days, it's best to get reacquainted with myself Cristina 2015. Collected from the guestbook"
Your Meeting
Place since 2005
Live the magic that is in you.
Since we welcomed our first guests in 2005, La Perezosa has provided a unique place to enjoy alternative holidays; fun and happy holidays full of memorable encounters, friendship and good health.
So why an alternative holiday?
We offer a unique space in Cantabria where you can immerse yourself in nature in the very heart of Liebana Valley; home to a wealth of wildlife and natural beauty. 
We will enjoy: – Pure Nature with the help of our very own guides, fun evening get togethers in the garden peppered with laughter and games, friendly encounters and a variety of workshops, all found in a magical place full of charm. 
Fun with a variety of entertaining activities such as dance, animations, laughter therapy and many more, it is practically impossible to not find something you enjoy.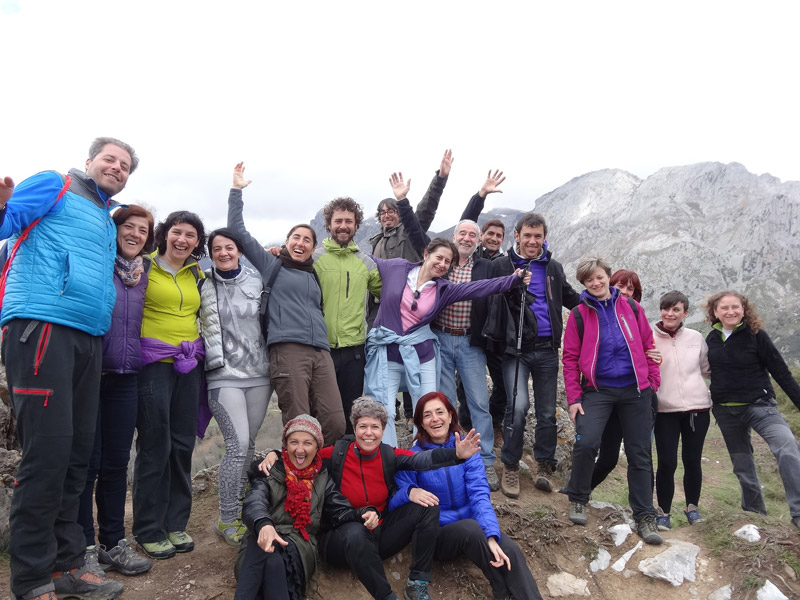 We offer our great team: Loreto; facilitator of group dynamics, international dances of the world, proud mother and lover of games. 
Juan with his own personal style of Yoga for Health, his integrated health and physiotherapy clinic and his passion for sharing his health methods. 
Maite with her homemade and super healthy food and the charming services of our local guide, Rubén, who will show you the delights of Liebana Valley on a variety of excursions and walks, sharing our love of local rural culture, tradition and architecture, together with the local plants and animals. 
Live a unique experience participating in our workshop on medicinal plants and herbal infusions. We can count on the company of our friend and musician, Mikel, who assists in activity planning, in addition to the local collaborators and volunteers involved in each 'Lazy Week' and the health and animation professionals that help us throughout the summer. 
We offer a unique opportunity to meet others, creating a warm space for forming friendships, conversation, laughter and enjoyment participating in multiple workshops in relaxation, general health and nutrition, stress management, body intelligence and consciousness, dances of the world and laughter therapy. 

All of this, on top of concerts, evening parties, board games and many more experiences to choose from. They are holidays for filling those warm days of summer with colour, enjoying a herbal garden full of medicinal plants, an outdoor swimming pool, hammocks, a communal living area and a multi-activity and yoga studio.
Alternative holidays because we offer our very own homemade vegetarian food; a delicious ovo-lacto-vegetarian menu elaborated by our marvellous chef who prepares culinary delights from all over the world, such as Moussaka, Special Lasagne, Tita's famous homemade butter, Cacao Cake and so many more. 
Thanks to the success of our vegetarian world, we have developed online courses in healthy cooking; sharing our recipes with all and sundry. With warm thanks to the entire team.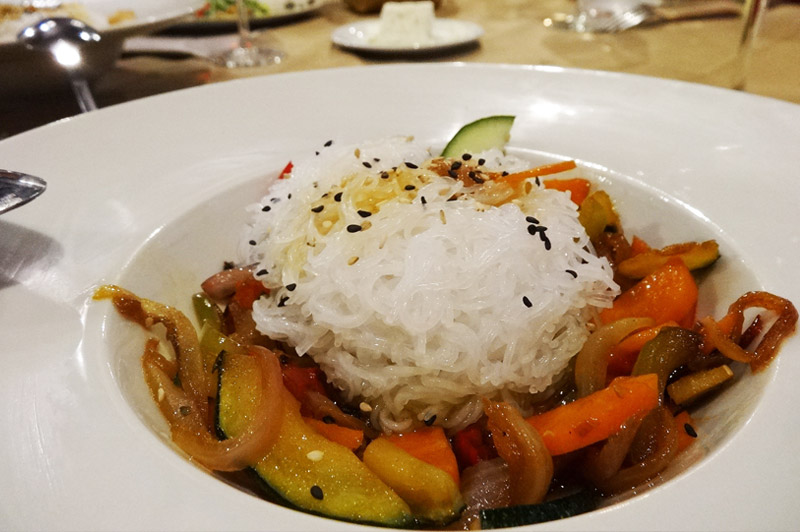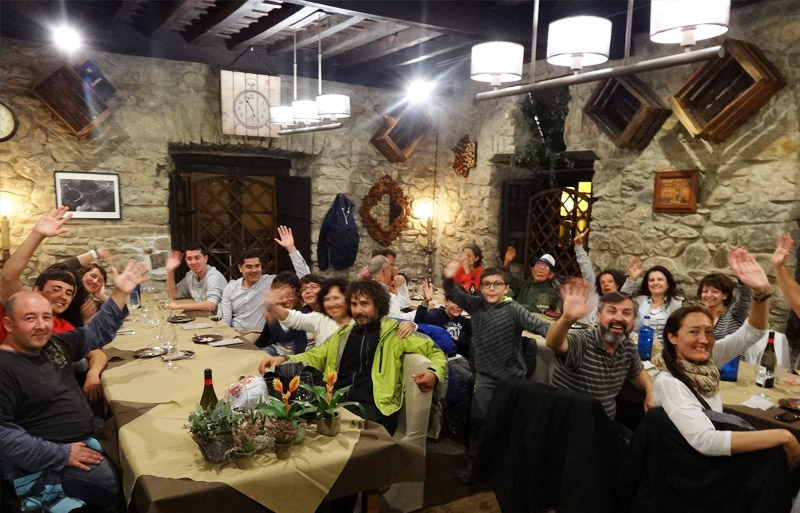 Alternative holidays that also offer a place to heal, with our physiotherapy clinic, massages, osteopathy, natural health clinic, and facilitator in health and nutrition. 

Alternative holidays because we entertain with trips to the nearby Balneario Spa and dinner and drinks in Potes, enjoying the concerts that continue throughout the summer.
That's why we believe in and have created these quality alternative holidays, so that on top of enjoying some splendid, fun and healthy days with us making friends, you will keep the memory of having found such magic within you, for the rest of your life. For that, we thank all of those who have come here, or will come here to share their dreams with us.
Respecting the original & traditional style of our house, made of stones and wood, we transformed it in an ecological way, to offer you all the comfort of 21st Century modern lifestyle but in an Old World atmosphere. Also our Physiotherapy & Spa area are equipped with the latest equipment, but environmentally friendly. 
Enjoy the beauty of our pleasant living- and dining room with fireplace, couches and great views. There is enough room, comfortably, for 24 people.
Our Physiotherapy & Spa area is well equipped with the most modern and latest installations. We created a nice water zone consisting of a complete hydro-massage sauna, a spa for up to 3 people, a massage bed «korean-style», a relax-area