Yoga, Hiking, Wellness and Fun in the Picos Mountain, Spain
Semana Perezosa para extranjeros y también para españoles

6 Days from 460€ (excluding flights and transfers)
September: From the 16th to the 21th/23th.
Enjoy the invigorating nature found in the Picos Mountains National Park, along with daily Yoga classes, meditation and relaxation, beautiful guided hiking and trekking, the famous Fuente Dé cable car, therapeutic circuits in the nearby Balneario Spa, delicious ovo-lacto vegetarian food as well as fun, health activities, sightseeing and a warm, lighthearted atmosphere. 

Not to mention the possibility of natural therapies and transportation for excursions within the program. 

Possibility of transfers from the airport: from Santander for 120 €, Gijón for 200 € and from Bilbao for 240 €. Possibility of Bed and Breakfast from 150 €.
Arrival: Sunday
You will be collected from Santander, Gijón or Bilbao Aiport, or from the corresponding ferry ports, or by our driver (to be arranged before and charged separately). We will welcome you warmly, offer you an infusion and a cookie and take the time to explain the holiday program in detail in order to personalize it to your needs as much as possible. 
You can enjoy a delicious vegetarian dinner at 8.00pm before joining a relaxing evening class.
Departure: Friday
At the moment, there is no yoga class planned but this will depend on departures to the airports. If everyone can, we will do a final yoga class to collate everything we learn over the week.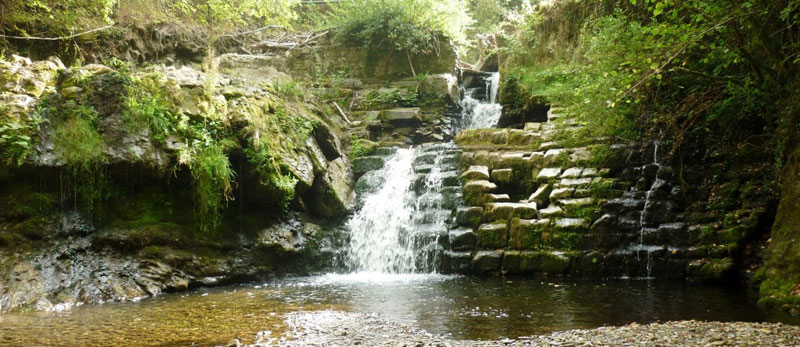 – Monday
If the group is keen, we will start at 8.30am with infusions, nuts and seasonal fruit followed by a meditation, pranayama and hatha yoga class at 9am. Our full ovo-lacto vegetarian breakfasts are served at 10.00am.
Hiking This day we will walk a beautiful route between beech and oak groves through the Estrechu Valley, where we can enjoy one of the best preserved ecosystems of Liebana. We will have a picnic and rest at Aniezo. There will also be time for a small outdoor workshop on breathing and health which will be better al fresco. There is also the chance to have something at Jon's inn and for those that want to, we can visit the museum of cider. We will pass through some beautiful villages which demonstrate authentic tradition in their use and customs. It is a perfect route for all levels and will last approximately 4-5 hours. 
We will return home to rest, to recover strength and to enjoy a rich homemade dinner at 8.00pm.
After dinner, if energy levels are still high and everyone is game, we will propose some fun game or board game, or if you would prefer, we can do a meditation session in the yoga room. Our evening yoga sessions tend to be calmer or soft classes to help relax your muscles and mind in time for bed.
– Tuesday
8.30 am The same as the previous day, mini breakfast, yoga session at 9.00am and breakfast at 10.00.
Route to Fuente Dé:
Then we will prepare to go into the heart of the Picos Mountains, through Cantabria to Fuente Dé. We will organize an excursion to enjoy one of the most widely known, impressive and fantastic places in the whole of Northern Spain. The overall price includes both the transport and the cable car pass and so we will enjoy a route of about 4-5 hours, more or less. We will eat a picnic in a lovely spot where we will be able to feel the limestone beneath our feet, the great peaks towering above us and the freshness of the mountain air. On the way back, we will suggest stopping off in Potes to have a drink together and discuss the highlights of the day. At 8.00pm we will serve a delicious dinner and after dinner, there will be free time to talk, take an infusion, listen to music, take a stroll in the village or gaze at the stars … quiet moments to gather strength and enjoy the moment.
---
– Wednesday
8.30 am The same as the previous day, mini breakfast, yoga session at 9.00am and breakfast at 10.00.
On Wednesday morning, we will practice yoga a little earlier at 8.30am to have a quick breakfast at 9.00am and have enough time to go and enjoy the thermal circuit at the four-star Health Spa in the Hermida Gorge (la Hermida). 

Spa: 
A complete, one and half hour circuit which will allow you to rest and feel energised and full of vitality. On leaving, you will have time to enjoy a wine or a beer or whatever you want before going home. 
Lunch at 2.30pm; delicious homemade food. 
After that, there is free time to relax, have a siesta, take a book to enjoy by the pool or in the garden, take a walk through the forest and gorgeous surrounding landscape or meditate. 
After the break, around 18.00pm, we will have a workshop on stress management, massage and relaxation through the body, guided by the physiotherapist and osteopath. 

Massage and Stress Workshop:
We will perform a workshop of relaxation through manual techniques so that you can enjoy it here but also continue practicing at home. 
Dinner will be at 8.00pm and afterwards, there will be time to rest, read, take a little walk or listen to music, or we can always have an infusion around a good talk.
---
– Thursday
As on previous days, mini breakfast at 8.30am, yoga class at 9.00am and breakfast at 10.00am.
Hiking:
Afterwards we will take a beautiful walk in the Cabezón Valley and enjoy incredible views of the valley, villages and nature. We will take a picnic to enjoy the route more peacefully. It is a route to charge energy, vitality and sun for the whole year. 
Cultural visit: In the afternoon, there is time for a little rest and for those that want, a guided tour of Potes and a chance to have an authentic spanish cider (a typical drink from the north of Spain). On this night, we don't serve dinner so you can enjoy the local gastronomy but we will suggest several styles for you to choose from. If you want, then you will have time for drinks, dancing or a party. A joyful way to end those lazy nights. The transport to the house will be by your account, so that you can decide when you want to go home and enjoy the night.
---
– Friday Departure day:
Depending on your departures and flights we will prepare breakfast at about 9.00am and coordinate all your departures. Remember if you want us to take you to the airport or inform you of public transport from Potes to Santander, Gijón or Bilbao, please arrange with us beforehand.
Yoga:
A complete program of classes dedicated to health and vitality. Morning classes and relaxation and meditation sessions designed for all levels. Based on classic styles of hatha yoga, with more modern influences including anusara and anyengar amongst many others. You will be able to find support, to improve the control of your body, your breathing, your emotions and your mind. 
We will work on meditation techniques and mindfulness, which are especially useful because they can be developed in your home to balance the ebb and flow of your stress and emotions. 

Instructor: Juan F. Pascual Valle: Physiotherapist, biologist and therapist specialized in yoga and natural medicine. 
Our program combines the yoga experience gained over more than 20 years, integrating the most classic yoga with the health sciences, promoting the pillars of self-healing, beautiful attention and positive thinking. It has been formed with professors from all over the world, whether they be European, American or Indian. It promotes a health method through the Health Institute and offers courses in Nutrition, Natural Medicine and Yoga for Health through La Perezosa and all over Spain, as well as through our courses online, attracting, at present, more than 3000 students (currently only in Spanish).
---
Hiking in Pure Nature
The Picos de Europa Park was the first national park to be designated in Spain and it is easy to see why. At its feet, you encounter the authentic beauty of Liébana Valley which, together with its unique flora, fauna and architectural style, provides the ideal opportunity to immerse oneself in the history, culture and famous gastronomy of this relatively unexplored region of Spain. 
We design three fantastic excursions, adapted to a moderate level (3-5 hours), where we will discover the landscapes and villages of deep Cantabria and we will explore inside the Natural Park with a trip up the famous Fuente Dé cable car. 
Enjoy the pure mountain air, Torices´rejuvenating natural water and an incredible microclimate that offers mild temperatures and sunshine most of the year.
---
Wellness
You will enjoy a complete hydrotherapy session in the Hermida Spa, bathing in its natural thermal waters that are recognized for their beneficial properties. We complement our yoga sessions with outdoor breathing and health workshops and workshops in stress control and massage; all to allow you to fully relax throughout the week whilst also learning how to improve your life and well-being on a day to day basis with the hope that what you gain from your experience with us can be extended to the rest of the year.
Our high quality homemade ovo-lacto vegetarian food will accompany you throughout your stay, allowing you to enjoy health at your table; delicious and nutritional. And there will also be free time to take a break and rest, or enjoy lounging around the pool, or in a hammock with a book from the library. Finally, you can complete your stay with personalized sessions in the physiotherapy clinic, massage and natural therapies (not included in overall price).
---
Fun and Culture
Creating a warm and welcoming atmosphere has been La Perezosa´s speciality since 2005. The mixture of cultures and Spanish kindness you will find, combined with our variety of activities, allows us to create a haven of friendship, memories and companionship that lasts a lifetime. We try to encourage group board games, originality and fun, relaxed meals and tasting the local regional delicacies such as the traditional cider and cheese produced in the heart of Potes. If the group is keen and there are enough guests, we will also enjoy the famous and fun dances of the world with Loreto. 

The Perezosa team are looking forward to sharing these days with you. It is important to keep in mind that except for Mo who joins us from England, the rest of our fantastic team are Spanish with a charming colloquial level of English, so together we will have fun learning and sharing language and communicating as neighbours. We will gladly take your stay as an opportunity to teach you some Spanish.
---
In addition:
A Unique Culture: The Valley of Liébana has a wealth of local culture and architecture; as much in its towns and famous roman churches as in its unique history of conquest and holy places. This year 2017 will be celebrated as Jubilee year in Liébana and is sure to be marked with a variety of traditional events throughout the calendar year.
HIGHLIGHTS
Morning chanting and yoga classes | Relaxation by the pool | Walking with mountain views | Meditation | Relaxing evening yoga classes | Massage, Relaxation and Breathing Workshops | Three vegetarian meals a day | The Picos Mountain National Park | Potes | Cider tasting at a traditional local restaurant | The Hermida Spa Hotel | The Fuente Dé Cable Car | Physiotherapy | Natural Treatments | Roman Churches paseando en el jardin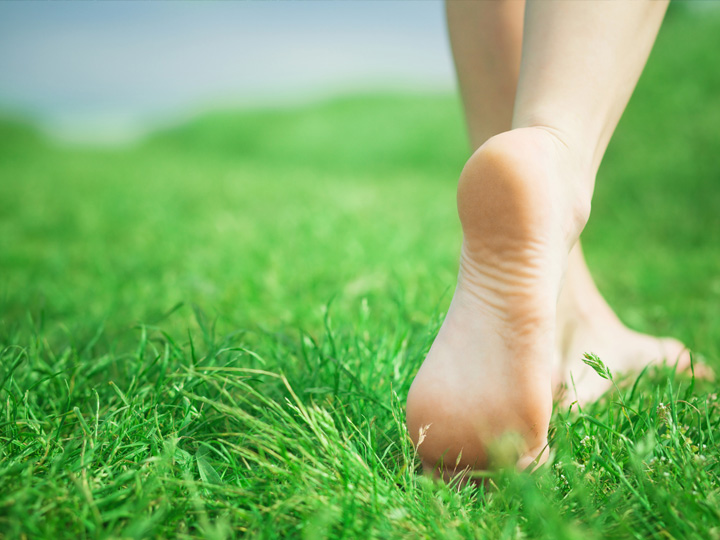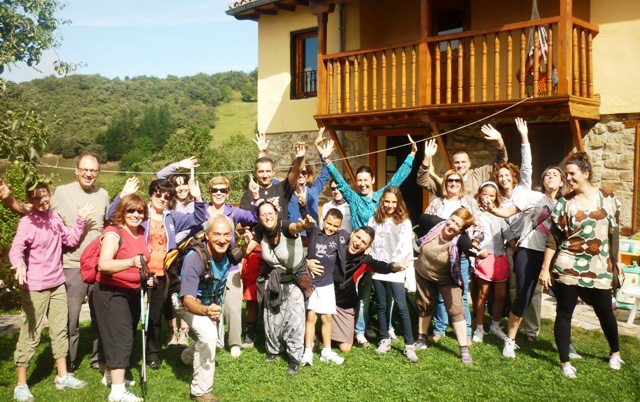 DESCRIPTION
A complete program of activities to enjoy the spectacular nature of the Picos Mountain National Park and the beauty of the Liébana Valley with its authentic microclimate, along with a designed yoga plan, hiking, health activities, culture, fun and relaxing in the Spa.
Enjoy:
An authentic mountain guest house made of stone and wood and adapted with the most modern facilities
Spectacular mountain views from the beautiful village of Torices in Liébana Valley.
A comfortable living room with a fireplace, herbal infusions, music and a library.
A lovely, spacious yoga room where you can practice our classes, participate in workshops and enjoy a variety of cushions, blankets and musical instruments to create the perfect atmosphere for relaxation and meditation.
We have lavish gardens with hammocks to relax and unwind next to our delightful outdoor swimming pool and a small garden of medicinal plants which offers the generous shade of our fruit trees.
We also have a physiotherapy and natural medicine clinic service and a Korean stretcher room, whirlpool and spa for those who want to pamper themselves.
All rooms are comfortably adapted to your well-being with central heating and beautiful views.
Made fresh everyday, completely homemade and with products of the best quality that are mostly locally-sourced and organically farmed. We will offer you a tasty ovo-lacto vegetarian menu that mixes components of the traditional Spanish cuisine, both Mediterranean and Atlantic, together with international dishes adapted to the world of health. 
The famous lazy breakfasts are composed of whole wheat toast, homemade jam, cornbread, special butter with nuts, fruit and fresh macedonia, herbal infusions, healthy homemade desserts, vegetable milks, nuts and pure organic cacao that will delight at this time of the morning. 
The Picnics we offer are traditional dishes that we can carry easily. The main meals and dinners are designed so that you can enjoy a really healthy and appetizing meal. We have proudly been creating our own menus that harmonize health and taste for over 12 years. 
It is important that anyone with special needs, such as food intolerances or allergies, lets us know before they come so that we can adapt our menus and meals accordingly. 
Throughout your stay you are welcome to enjoy unlimited water, our buffet of rich infusions, and seasonal fruit and nuts, all free.
OUR TOP TIP:
It's worth completing the pre-arrival questionnaire as this will allow your hosts to tailor the yoga programme according to your needs.
TRIP TYPE:
Small group, max. 24 people.
Yoga LEVEL:
Suitable for all levels.
HIKING:
Suitable for all levels. Routes from 3 to 6 hours.
PLEASE NOTE: This is due to light conditions. Itinerary might also vary according to level of fitness of the group, as well as weather conditions (safety).
ACCOMMODATION:
Comfortable mountain house with swimming pool.
INCLUDED:
Accommodation, cable car ticket, one Spa session in the four star Hermida Hotel, four or five yoga classes, two meditation- relax classes, massage and relaxation techniques workshop, one breathing workshop, three guided hiking routes; one of them in the heart of the Picos de Europa, fun dinner games, a cultural visit to Potes with a cider on us and transportation to all excursions and programmed visits. Transportation for excursions within the program.
MEALS:
Full board vegetarian meals (except : 1 night when you are free to explore local dining in a special restaurant with a discount, Sunday lunch nor the Friday lunch, day of departure.) and picnics on all excursions. Unlimited water, infusions, nuts and seasonal fruit.
Recommendations:
Comfortable clothing, swimsuit with hat and flip flops, pool towel, hiking boots and a mat if you have one. Recommended: to be ready to have a positive, vital and creative experience with the desire to rest, have fun and share.
---
Location
Nearby places:
Santander International Airport/ferry -1.5 hours
Bilbao Airport/ferry – 2.5 hours.
Gijón Airport /ferry – 2 hours.
NOTE: Our closest international airport is Santander. We also provide a transfer service from Santander, Bilbao and Asturias airports and there are public transport links to Potes from all three airports. Santander, Gijón and Bilbao are international ferry destinations too.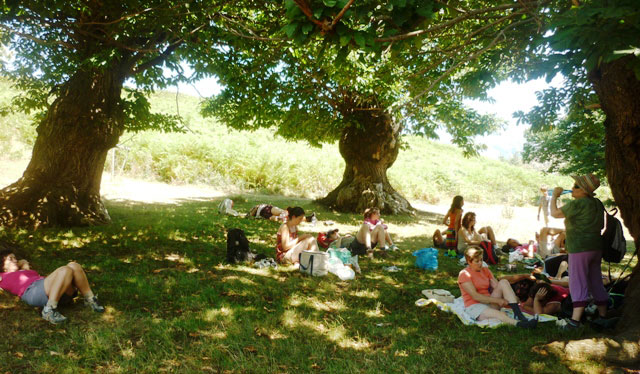 Arrival by airplane
Please book your flight to arrive either at Santander International Airport , Gijon Airport or Bilbao Airport . 
Please feel free to enquire about transfer costs when you make your booking with us. If you require any special travel arrangements, please enquire when making your booking.
Arrival by ferry
Please book your ticket to arrive either at Santander, Gijón or Bilbao international ferry port. 
Please enquire about transfer costs when you book with us. If you require any special travel arrangements, please enquire when making your booking.
Arrival by bus
Please book your bus to arrive at Potes bus station. 
You will need to take a taxi from the bus station or train station to reach the Perezosa.
Available dates:
September: From the 16th to the 21th/23th .
Member of responsible Travel ( in 2017)